MECHANO PHYSICS RESEARCH : RESEARCHING THE WORLD
Physics/Engineering Research Bridging the Gap, and Eliminating the Ideas that ----------------------------------------- Foster Ignorance-----------------------------------------
The Best Science is One That Subverts Authority
That is the history of Sceince
Watch the latest videos of the Electro Magnetic Radiation Detector.
Below
Check out the new python program "Triad" for
calculating relative postion and velocities of ro-
tating vectors, ie., phasors. Useful for a variety
of analytical studies including but not limited to
secure encryption of messages.
See "www.github.com", enter "Andyzmatrix/triad"
, and download the program now.
New Type of Research/Touring/Expedition Kayak designed
To be tested on long distance kayak trip, Tennesee
to Florida. In January 2017 a new type of touring/exped-
ition kayak was designed and construction begun. Now,
August 2017, the kayak is completed with the traditional
method for propulsion. A more advanced and novel
method of propulsion is in the design stage for this new
type of expedition kayak.
Mechano Physics Research kayak trip was started on Aug
8, 2017 from a small boat dock located below, Knoxville,
TN. Currently on November, 10th I am at Clifton, Marina
on the Tennessee River. The river mileage is approxi-
matley 456 miles. I have met many people on this trip
and Sonja, who is the manager at Clifton Marina was one
nicest on this chilly November day.
Also, I have met Jason Lamont and his daughter, Lily,
also Kevin Carter and Jodi Miller, I met at Savannah,
TN.
Sonja, Jason, Lily and Kevin and Jodi
can now be considered Trail Angels, (in the tradition
of the Appalachian Trail) by providing Trail Magic
along the Tennessee River, at Savannah and Clifton.
Many thanks to C.J. and Judy at Gumbdale, TN today,
November, 12, 2017. Also, Trail Angels as well.
Cuba Landing, at I-40 bridge was the site of Trail Magic
from the manager, Jessica, a real Trail Angel. Cuba
Landing marks the 531 miles from the dock near
Knoxville, TN. The wind was whipping the waves into
a roller coaster before I entered the cove area of
Cuba Landing. Made Cuba Landing on November, 15,
2017.
Made, New Johnsonville and the Submarine Cafe,
where I met Kelly a waitress, a Trail Angel, who
offered Trail Magic and received some fresh water
pearls in exchange.
This trip finally came to an end at the Kenlake
Marina and highway 68 bridge in Kentucky, when
the temperatures reached single digits and the
river/lake began to freeze. The dock area of the
Marina was iced in for about 20 yards from the
dock. These temperatures continued for a week
and frostbite became a real, possibility if the trip
continued past the end date of January 3rd., 2018.
On January 4th, 2018 I ate a farewell lunch at Marcella's
Kitchen with Cindy the bus driver, Barbara, and Josie
in Benton, Kentucky. After spending the night at
a 24 hour Walmart sending out resumes and playing
video games, I stayed at the Benton KY, Warming Center.
My thanks go out to Josie who brought bags of food and
gave me transportation to the Warming Center and fin-
ally to the library where I met my brother.
On January 5th,2018 my brother, and I loaded the
kayak onto his cartop and began the long ride home
to the cabin on Cokercreek, TN.
I would like to thank all who I met along the river
for their hospitality and friendship
Testing for the research/touring/exped-
ition kayak beginning at Vonore,Tennessee,on the Little
Tennessee River and attempting to end at Ft. Pierce,
Florida on the Atlantic coast of Florida, on the Indian
River.
For more information about this contact Andrew at:
aslann22@hotmail.com
This trip came to an end on January 3rd,
2018 but one of the main goals of the trip
was to test the touring/expedition kayak
under extreme conditions. The trip lasted
5 months and covered over 600 miles, weather
-ed two hurricanes, Harvey and Irma and came
through with flying colors. The computer and
cell phones were not damaged, proof that the
kayak is both stable and reliable under extreme
conditions.
Mechano Physics Research
Coming soon: A new, highly efficient, low head
water turbine. Operating on less than 2 inches
of head, and 50 cubic feet per minute. At this
rate it produces more than 6+ volts, with the
ability to keep batteries charged on a 6+ volt
system. More testing is soon to follow, with
generator output charts and photographs to be
made available. System available for less than
$1,500.00 plus shipping, two year warranty
included. Click on, " Photos of Turbine and
Lighting", at the top of the page.
Low Head, Low flow rate, turbine
https://www.youtube.com/watch?v=OR8IvZSzp24
Boosting the voltage circuit and set point
https://www.youtube.com/watch?v=tVoLZO3eQbk
Computer clean-up and software repair, -- clean the registry and install anti-virus
software. Maintain your computer at regular intervals and keep it running smoothly.

Computer clean-up and software repair, - clean the registry and install anti-virus software.
Maintain your computer at regular intervals and keep it running smoothy.
See
http://www.tour-elite.20m.com/ Market and advertising for groups interested in world wide tours and developing a market for their business.
Market your goods and services, See sample website for advertising and marketing at www.davidsbikesale.20m.com
http://www.mechano-physics.20m.com/ Here is an example of a novel type of power and electrical generating machine. This is available for the home or offic gymnasium or for anyone interested in spending their time more efficiently by exercising and working on the computer as they exercise.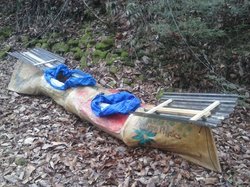 ********************************************************************************************************* ********************************************************************************************************
This is a new type of long distance kayak, with locking forward and rear hatches for security. This is the kayak that recently completed a 600 mile river trip from Vonore, TN to Benton, KY.
The kayak weathered 2 hurricane's and many many large cruiser boats. The trip started August, 8th, 2017 and ended January, 3rd, 2018. The trip ended, on January 3rd, 2018, with the
Tennessee River, freezing over and the local marina closed with no boats entering or leaving on account of the intense cold. The specially designed kayak remained stable and intact, never
capsizing even though the river waves and wind became intense and virtually impossible to navigate. In water that even the large motorboats found difficult to maneuver through. While
crossing the river channel in Chattanooga, at the time of hurricane Irma, waves higher than the gunnels, and driven by high winds, attempted to sink the craft, but the kayak survived
intact and without damage, never being destabilized.
0402171312
The Mechano-Physics Extrapolation, a pedal powered electrical generating machine